I love to read. No, seriously. It's an addiction, and I never want to be cured!
Several blogs I read have started to have their own pages or additional blogs just to review books they have read, and I have decided to follow that trend.
So, this is where I'll tell you a little about the books I've read. Okey dokey?
************************************************
Here's the list for
2017
(all summaries are from Goodreads unless otherwise noted)
:


1. We Could Be Beautiful - Swan Huntley. Catherine West has spent her entire life surrounded by beautiful things. She owns an immaculate Manhattan apartment, she collects fine art, she buys exquisite handbags and clothing, and she constantly redecorates her home. And yet, despite all this, she still feels empty. She sees her personal trainer, she gets weekly massages, and occasionally she visits her mother and sister on the Upper East Side, but after two broken engagements and boyfriends who wanted only her money, she is haunted by the fear that she'll never have a family of her own. One night, at an art opening, Catherine meets William Stockton, a handsome man who shares her impeccable taste and love of beauty. He is educated, elegant, and even has a personal connection—his parents and Catherine's parents were friends years ago. But as he and Catherine grow closer, she begins to encounter strange signs, and her mother, Elizabeth (now suffering from Alzheimer's), seems to have only bad memories of William as a boy. In Elizabeth's old diary she finds an unnerving letter from a former nanny that cryptically reads: "We cannot trust anyone…" Is William lying about his past? And if so, is Catherine willing to sacrifice their beautiful life in order to find the truth? Featuring a fascinating heroine who longs for answers but is blinded by her own privilege, We Could Be Beautiful is a glittering, seductive, utterly surprising story of love, money, greed, and family.



2.
I Regret Nothing
-
Jen Lancaster
.
New York Times bestselling author Jen Lancaster has lived a life based on re-invention and self-improvement. From Bitter Is the New Black to The Tao of Martha, she's managed to document her (and her generation's) attempts to shape up, grow up, and have it all—sometimes with disastrous results…


Sure Jen has made mistakes. She spent all her money from a high-paying job on shoes, clothes, and spa treatments. She then carried a Prada bag to the unemployment office. She wrote a whole memoir about dieting…but didn't lose weight. She embarked on a quest for cultural enlightenment that only cemented her love for John Hughes movies and Kraft American Singles. She tried to embrace everything Martha Stewart, while living with a menagerie of rescue cats and dogs. (Glitter…everywhere.)

Mistakes are one thing; regrets are another.

After a girls' weekend in Savannah makes her realize that she is—yikes!—middle-aged (binge watching is so the new binge drinking), Jen decides to make a bucket list and seize the day, even if that means having her tattoo removed at one hundred times the cost of putting it on.

From attempting a juice cleanse to studying Italian, from learning to ride a bike to starting a new business, and from sampling pasta in Rome to training for a 5K, Jen is turning a mid-life crisis into a mid-life opportunity, sharing her sometimes bumpy—but always hilarious—attempts to better her life…again.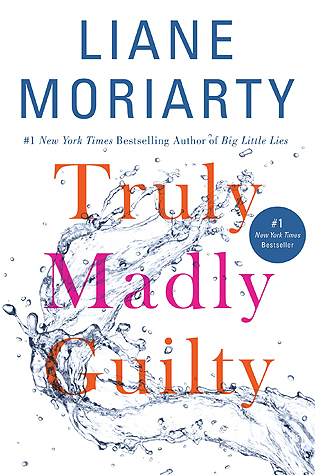 3.
Truly, Madly, Guilty
-
Liane Moriarty
.
Six responsible adults. Three cute kids. One small dog. It's just a normal weekend. What could possibly go wrong?

Sam and Clementine have a wonderful, albeit, busy life: they have two little girls, Sam has just started a new dream job, and Clementine, a cellist, is busy preparing for the audition of a lifetime. If there's anything they can count on, it's each other.

Clementine and Erika are each other's oldest friends. A single look between them can convey an entire conversation. But theirs is a complicated relationship, so when Erika mentions a last minute invitation to a barbecue with her neighbors, Tiffany and Vid, Clementine and Sam don't hesitate. Having Tiffany and Vid's larger than life personalities there will be a welcome respite.

Two months later, it won't stop raining, and Clementine and Sam can't stop asking themselves the question: What if we hadn't gone?

In Truly Madly Guilty, Liane Moriarty takes on the foundations of our lives: marriage, sex, parenthood, and friendship. She shows how guilt can expose the fault lines in the most seemingly strong relationships, how what we don't say can be more powerful than what we do, and how sometimes it is the most innocent of moments that can do the greatest harm.
4.
Arrowood
-
Laura McHugh
.
Arrowood is the most ornate and grand of the historical houses that line the Mississippi River in southern Iowa. But the house has a mystery it has never revealed: It's where Arden Arrowood's younger twin sisters vanished on her watch twenty years ago—never to be seen again. After the twins' disappearance, Arden's parents divorced and the Arrowoods left the big house that had been in their family for generations. And Arden's own life has fallen apart: She can't finish her master's thesis, and a misguided love affair has ended badly. She has held on to the hope that her sisters are still alive, and it seems she can't move forward until she finds them. When her father dies and she inherits Arrowood, Arden returns to her childhood home determined to discover what really happened to her sisters that traumatic summer.
Arden's return to the town of Keokuk—and the now infamous house that bears her name—is greeted with curiosity. But she is welcomed back by her old neighbor and first love, Ben Ferris, whose family, she slowly learns, knows more about the Arrowoods' secrets and their small, closed community than she ever realized. With the help of a young amateur investigator, Arden tracks down the man who was the prime suspect in the kidnapping. But the house and the surrounding town hold their secrets close—and the truth, when Arden finds it, is more devastating than she ever could have imagined.
5.
The Fireman
-
Joe Hill
.
No one knows exactly when it began or where it originated. A terrifying new plague is spreading like wildfire across the country, striking cities one by one: Boston, Detroit, Seattle. The doctors call it Draco Incendia Trychophyton. To everyone else it's Dragonscale, a highly contagious, deadly spore that marks its hosts with beautiful black and gold marks across their bodies—before causing them to burst into flames. Millions are infected; blazes erupt everywhere. There is no antidote. No one is safe. Harper Grayson, a compassionate, dedicated nurse as pragmatic as Mary Poppins, treated hundreds of infected patients before her hospital burned to the ground. Now she's discovered the telltale gold-flecked marks on her skin. When the outbreak first began, she and her husband, Jakob, had made a pact: they would take matters into their own hands if they became infected. To Jakob's dismay, Harper wants to live—at least until the fetus she is carrying comes to term. At the hospital, she witnessed infected mothers give birth to healthy babies and believes hers will be fine too. . . if she can live long enough to deliver the child.

Convinced that his do-gooding wife has made him sick, Jakob becomes unhinged, and eventually abandons her as their placid New England community collapses in terror. The chaos gives rise to ruthless Cremation Squads—armed, self-appointed posses roaming the streets and woods to exterminate those who they believe carry the spore. But Harper isn't as alone as she fears: a mysterious and compelling stranger she briefly met at the hospital, a man in a dirty yellow fire fighter's jacket, carrying a hooked iron bar, straddles the abyss between insanity and death. Known as The Fireman, he strolls the ruins of New Hampshire, a madman afflicted with Dragonscale who has learned to control the fire within himself, using it as a shield to protect the hunted . . . and as a weapon to avenge the wronged. In the desperate season to come, as the world burns out of control, Harper must learn the Fireman's secrets before her life—and that of her unborn child—goes up in smoke.
6.
Kidnapped
-
Jan Burke
. (Summary from Amazon)
Not long after the Las Piernas Express publishes Irene Kelly's articles profiling missing children cases, bones turn up at a California estate -- and a notorious murder-kidnapping is churned up once more. When artist Richard Fletcher was found bludgeoned in his studio years ago, his stepson was quickly apprehended with the murder weapon and ultimately convicted. But Richard's young daughter, Jenny, who went missing at the time of the murder, was never found. Now Irene has joined Richard's son Caleb, a graduate student of forensic anthropology, in the fight to prove his stepbrother's innocence and solve Jenny's disappearance. But digging up the tragedies of the sprawling and powerful Fletcher family is about to set off a murderous chain reaction -- and put Irene's own life in peril.
7.
Stay Close
-
Harlan Coben
.
Megan is a suburban soccer mom who once upon a time walked on the wild side. Now she's got two kids, a perfect husband, a picket fence, and a growing sense of dissatisfaction. Ray used to be a talented documentary photographer, but at age forty he finds himself in a dead-end job posing as a paparazzo pandering to celebrity-obsessed rich kids. Jack is a detective who can't let go of a cold case—a local husband and father disappeared seventeen years ago, and Jack spends the anniversary every year visiting a house frozen in time, the missing man's family still waiting, his slippers left by the recliner as if he might show up any moment to step into them. Three people living lives they never wanted, hiding secrets that even those closest to them would never suspect, will find that the past doesn't recede. Even as the terrible consequences of long-ago events crash together in the present and threaten to ruin lives, they will come to the startling realization that they may not want to forget the past at all. And as each confronts the dark side of the American Dream—the boredom of a nice suburban life, the excitement of temptation, the desperation and hunger that can lurk behind even the prettiest facades—they will discover the hard truth that the line between one kind of life and another can be as whisper-thin as a heartbeat. With his trademark combination of page-turning thrills and unrivaled insight into the dark shadows that creep into even the happiest communities, Harlan Coben delivers a thriller that cements his status as the master of domestic suspense.
8.
Bonkers
-
Jennifer Saunders
.
Jennifer Saunders' brilliant comic creations have brought joy to millions for three decades. From Comic Strip to Comic Relief, from Bolly-swilling Edina in Absolutely Fabulous to Meryl Streep in Mamma Mia, her characters are household names.


But it's Jennifer herself who has a place in all our hearts. This is her funny, touching and disarmingly honest memoir, filled with stories of friends, laughter and occasional heartache - but never misery.

From her childhood on RAF bases, where her father was a pilot, to her life-changing encounter with a young Dawn French, on to success and family, the book charts her extraordinary story, including the slip ups and battles along the way.Prepare to chuckle, cry, and whoop with delight.
9.
Right Behind You
-
Lisa Gardner
.
Is he a hero?

Eight years ago, Sharlah May Nash's older brother beat their drunken father to death with a baseball bat in order to save both of their lives. Now thirteen years old, Sharlah has finally moved on. About to be adopted by retired FBI profiler Pierce Quincy and his partner, Rainie Conner, Sharlah loves one thing best about her new family: They are all experts on monsters.

Is he a killer?

Then the call comes in. A double murder at a local gas station, followed by reports of an armed suspect shooting his way through the wilds of Oregon. As Quincy and Rainie race to assist, they are forced to confront mounting evidence: The shooter may very well be Sharlah's older brother, Telly Ray Nash, and it appears his killing spree has only just begun.

All she knows for sure: He's back.

As the clock winds down on a massive hunt for Telly, Quincy and Rainie must answer two critical questions: Why after eight years has this young man started killing again? And what does this mean for Sharlah? Once upon a time, Sharlah's big brother saved her life. Now, she has two questions of her own: Is her brother a hero or a killer? And how much will it cost her new family before they learn the final, shattering truth? Because as Sharlah knows all too well, the biggest danger is the one standing right behind you.
10.
Admiral
-
Sean Danker
.
"I was on a dead ship on an unknown planet with three trainees freshly graduated into the Imperial Service. I tried to look on the bright side."


He is the last to wake. The label on his sleeper pad identifies him as an admiral of the Evagardian Empire—a surprise as much to him as to the three recent recruits now under his command. He wears no uniform, and he is ignorant of military protocol, but the ship's records confirm he is their superior officer.

Whether he is an Evagardian admiral or a spy will be of little consequence if the crew members all end up dead. They are marooned on a strange world, their ship's systems are failing one by one—and they are not alone.
11.
The Ice Princess
-
Camilla Lackberg
.
Returning to her hometown of Fjallbacka after the funeral of her parents, writer Erica Falck finds a community on the brink of tragedy. The death of her childhood friend, Alex, is just the beginning. Her wrists slashed, her body frozen in an ice-cold bath, it seems that she has taken her own life. Erica conceives a book about the beautiful but remote Alex, one that will answer questions about their own shared past. While her interest grows into an obsession, local detective Patrik Hedstrom is following his own suspicions about the case. But it is only when they start working together that the truth begins to emerge about a small town with a deeply disturbing past.
12.
The Obsidian Chamber
-
Douglas Preston and Lincoln Child
.
After a harrowing, otherworldly confrontation on the shores of Exmouth, Massachussetts, Special Agent A.X.L. Pendergast is missing, presumed dead.

A SHOCKING RETURN

Sick with grief, Pendergast's ward, Constance, retreats to her chambers beneath the family mansion at 891 Riverside Drive--only to be taken captive by a shadowy figure from the past.

AN INTERNATIONAL MANHUNT
Proctor, Pendergast's longtime bodyguard, springs to action, chasing Constance's kidnapper through cities, across oceans, and into wastelands unknown.

BUT IN A WORLD OF BLACK AND WHITE, NOTHING IS AS IT SEEMS

And by the time Proctor discovers the truth, a terrifying engine has stirred-and it may already be too late . . .
************************************************
I actually read many more books in 2015 than what is listed below. Stupid life got in the way, yada yada yada, and BOOM the year is over before I knew it. I will endeavor to be better in 2016. I'm going to follow the same format this year as for last.
1.
Hades
-
Candice Fox
.
Twenty years ago, two children were kidnapped and left for dead. Raised by a master criminal, they grew up to become cops. Very unusual cops ... Homicide detective Frank Bennett has an intriguing new partner. Dark, beautiful, coldly efficient, Eden Archer is one of the most enigmatic colleagues Frank has ever worked with--that includes her brother Eric, who's also on the Sydney Metro police force. All of them are tested to the core when a local man discovers a graveyard of large steel toolboxes lying at the bottom of the harbor. Each box contains a grisly trove of human body parts. For Frank, the madman's clues are a tantalizing puzzle. For Eden and Eric, the case holds chilling links to a scarred childhood--and a murderous mentor named Hades. But the true evil goes beyond the bloody handiwork of a serial killer ...
Great book! Would make an excellent movie. I look forward to more from this author.
2.
The Girl With All The Gifts
-
M.R. Carey
.
Not every gift is a blessing. Every morning, Melanie waits in her cell to be collected for class. When they come for her, Sergeant Parks keeps his gun pointing at her while two of his people strap her into the wheelchair. She thinks they don't like her. She jokes that she won't bite. But they don't laugh. Melanie is a very special girl.
Good book! A little different from your normal zombie plot. I enjoyed it more than I thought I would.
3.
Six Years
-
Harlan Coben
.
Six years have passed since Jake Sanders watched Natalie, the love of his life, marry another man. Six years of hiding a broken heart by throwing himself into his career as a college professor. Six years of keeping his promise to leave Natalie alone, and six years of tortured dreams of her life with her new husband, Todd. But six years haven't come close to extinguishing his feelings, and when Jake comes across Todd's obituary, he can't keep himself away from the funeral. There he gets the glimpse of Todd's wife he's hoping for . . . but she is not Natalie. Whoever the mourning widow is, she's been married to Todd for more than a decade, and with that fact everything Jake thought he knew about the best time of his life--a time he has never gotten over--is turned completely inside out. As Jake searches for the truth, his picture-perfect memories of Natalie begin to unravel. Mutual friends of the couple either can't be found or don't remember Jake. No one has seen Natalie in years. Jake's search for the woman who broke his heart, and who lied to him, soon puts his very life at risk as it dawns on him that the man he has become may be based on carefully constructed fiction.
I read this book in one night; it was driving me crazy and I had to know all the answers to the mystery. I have read other books by this author, and I've liked them all so far.
4.
House of Small Shadows
-
Adam Nevill
.
Catherine's last job ended badly. Corporate bullying at a top television production company saw her fired and forced to leave London, but she was determined to get her life back. A new job and now things look much brighter. Especially when a challenging new project presents itself -- to catalogue the late M H Mason's wildly eccentric cache of antique dolls and puppets. Rarest of all, she'll get to examine his elaborate displays of posed, costumed and preserved animals, depicting scenes from World War I. When Mason's elderly niece invites her to stay at the Red House itself, where she maintains the collection, Catherine can't believe her luck. Until his niece exposes her to the dark message behind her uncle's 'Art'. Catherine tries to concentrate on the job, but M H Mason's damaged visions raise dark shadows from her own past. Shadows she'd hoped had finally been erased. Soon the barriers between reality, sanity and memory start to merge. And some truths seem too terrible to be real ...
This book was good, but seriously creepy. I was disappointed by the ending.
5.
The Trinity Game
-
Sean Chercover
.
Daniel Byrne is an investigator for the Vatican's secretive Office of the Devil's Advocate—the department that scrutinizes miracle claims. Over ten years and 721 cases, not one miracle he tested has proved true. But case #722 is different; Daniel's estranged uncle, a crooked TV evangelist, has started speaking in tongues—and accurately predicting the future. Daniel knows Reverend Tim Trinity is a con man. Could Trinity also be something more? The evangelist himself is baffled by his newfound power—and the violent reaction it provokes. After years of scams, he suddenly has the ability to predict everything from natural disasters to sports scores. Now the mob wants him dead for ruining their gambling business, and the Vatican wants him debunked as a false messiah. On the run from assassins, Trinity flees with Daniel's help through the back roads of the Bible Belt to New Orleans, where Trinity plans to deliver a final prophecy so shattering his enemies will do anything to keep him silent.
Oh my gosh - this book was so stinking good! I grabbed it at the library on a whim, the cover caught my eye. I loved it! Highly recommend.
6.
Memory Man
-
David Baldacci
.
Amos Decker's life changed forever--twice. The first time was on the gridiron. A big, towering athlete, he was the only person from his hometown of Burlington ever to go pro. But his career ended before it had a chance to begin. On his very first play, a violent helmet-to-helmet collision knocked him off the field for good, and left him with an improbable side effect--he can never forget anything. The second time was at home nearly two decades later. Now a police detective, Decker returned from a stakeout one evening and entered a nightmare--his wife, young daughter, and brother-in-law had been murdered. His family destroyed, their killer's identity as mysterious as the motive behind the crime, and unable to forget a single detail from that horrible night, Decker finds his world collapsing around him. He leaves the police force, loses his home, and winds up on the street, taking piecemeal jobs as a private investigator when he can. But over a year later, a man turns himself in to the police and confesses to the murders. At the same time a horrific event nearly brings Burlington to its knees, and Decker is called back in to help with this investigation. Decker also seizes his chance to learn what really happened to his family that night. To uncover the stunning truth, he must use his remarkable gifts and confront the burdens that go along with them. He must endure the memories he would much rather forget. And he may have to make the ultimate sacrifice.
Excellent book. I love pretty much everything I've read by Baldacci, and this one stayed with me for a while.
7.
American Elsewhere
-
Robert Jackson Bennett
.
Some places are too good to be true. Under a pink moon, there is a perfect little town not found on any map. In that town, there are quiet streets lined with pretty houses, houses that conceal the strangest things. After a couple years of hard traveling, ex-cop Mona Bright inherits her long-dead mother's home in Wink, New Mexico. And the closer Mona gets to her mother's past, the more she understands that the people of Wink are very, very different ... From one of our most talented and original new literary voices comes the next great American supernatural novel: a work that explores the dark dimensions of the hometowns and the neighbors we thought we knew.
Well, this book was ... interesting. I liked it, but it was ... interesting. It brought to mind Stephen King during his The Stand and Darktower years. And I liked those books. If you are into the genre of the slightly bizarre, then this will be right up your alley.
8.
Trust No One
-
Paul Cleave
.
Jerry Grey is known to most of the world by his crime writing pseudonym, Henry Cutter-a name that has been keeping readers at the edge of their seats for more than a decade. Recently diagnosed with early onset Alzheimer's at the age of forty-nine, Jerry's crime writing days are coming to an end. His twelve books tell stories of brutal murders committed by bad men, of a world out of balance, of victims finding the darkest forms of justice. As his dementia begins to break down the wall between his life and the lives of the characters he has created, Jerry confesses his worst secret: The stories are real. He knows this because he committed the crimes. Those close to him, including the nurses at the care home where he now lives, insist that it is all in his head, that his memory is being toyed with and manipulated by his unfortunate disease. But if that were true, then why are so many bad things happening? Why are people dying?
Excellent. Loved it. Couldn't wait to get to the end to see if my hypothesis was correct. It was, and it wasn't.
9.
Eruption: The Untold Story of Mount St. Helens
-
Steve Olson
.
For months in early 1980, scientists, journalists, sightseers, and nearby residents listened anxiously to rumblings in Mount St. Helens, part of the chain of western volcanoes fueled by the 700-mile-long Cascadia fault. Still, no one was prepared when an immense eruption took the top off of the mountain and laid waste to hundreds of square miles of verdant forests in southwestern Washington State. The eruption was one of the largest in human history, deposited ash in eleven U.S. states and five Canadian providences, and caused more than one billion dollars in damage. It killed fifty-seven people, some as far as thirteen miles away from the volcano's summit. Shedding new light on the cataclysm, author Steve Olson interweaves the history and science behind this event with page-turning accounts of what happened to those who lived and those who died. Powerful economic and historical forces influenced the fates of those around the volcano that sunny Sunday morning, including the construction of the nation's railroads, the harvest of a continent's vast forests, and the protection of America's treasured public lands. The eruption of Mount St. Helens revealed how the past is constantly present in the lives of us all. At the same time, it transformed volcanic science, the study of environmental resilience, and, ultimately, our perceptions of what it will take to survive on an increasingly dangerous planet. Rich with vivid personal stories of lumber tycoons, loggers, volcanologists, and conservationists, Eruption delivers a spellbinding narrative built from the testimonies of those closest to the disaster, and an epic tale of our fraught relationship with the natural world.
This was an awesome book! I rarely read works of non-fiction, but since I live practically in the shadow of Mt. St. Helens and have always been fascinated by the eruption, I figured this would be interesting. I was so right!! Will one day add this to my personal collection. Highly recommend.
10.
The Forgotten Room
-
Lincoln Child
.
Professor Jeremy Logan (the quirky and charismatic "enigmalogist" who specializes in solving problems of the strange or seemingly supernatural variety) receives an urgent summons from the director of Lux, one of the oldest and most respected think tanks in America. An unexplainable tragedy has taken place in the sprawling compound located on the coastline of Newport, Rhode Island. One of Lux's most distinguished doctors, overcome by erratic behavior, violently attacked his assistant before meeting with a gruesome self-inflicted end. Deeply shaken by the incident and the bizarre evidence left behind from the doctor's final project—as well as recent troubling behavior among several of the think tank's other scientists—Lux fears there is something more sinister occurring within its walls and looks to Jeremy Logan to investigate. Logan quickly makes a surprising discovery. In a long-dormant wing of the estate, he uncovers an ingeniously hidden secret room, unknown and untouched for decades. The room is essentially a time capsule, filled with eerie machinery and obscure references to a top-secret experiment known as "Project S." As Logan attempts to unravel its meaning, he begins to discern what transpired in that room—and why the frightening project was suddenly abandoned and sealed off many years before. As his work draws him ever deeper into harm's way, Logan soon unleashes a series of catastrophic events upon the rest of Lux . . . and himself.
Another good book by one of my favorite authors.
11.
Make Me
(Jack Reacher novel #20) -
Lee Child
.
"Why is this town called Mother's Rest?" That's all Reacher wants to know. But no one will tell him. It's a tiny place hidden in a thousand square miles of wheat fields, with a railroad stop, and sullen and watchful people, and a worried woman named Michelle Chang, who mistakes him for someone else: her missing partner in a private investigation she thinks must have started small and then turned lethal. Reacher has no particular place to go, and all the time in the world to get there, and there's something about Chang . . . so he teams up with her and starts to ask around. He thinks: How bad can this thing be? But before long he's plunged into a desperate race through LA, Chicago, Phoenix, and San Francisco, and through the hidden parts of the internet, up against thugs and assassins every step of the way—right back to where he started, in Mother's Rest, where he must confront the worst nightmare he could imagine. Walking away would have been easier. But as always, Reacher's rule is: If you want me to stop, you're going to have to make me.
This would make a good movie. I like the Jack Reacher series because you don't have to have read any of the previous novels for the current one to make sense. The ending was a bit of a surprise; had it partially figured out, but not completely.
12.
The Bazaar of Bad Dreams
-
Stephen King
.
Stephen King delivers a generous collection of stories, several of them brand-new, featuring revelatory autobiographical comments on when, why, and how he came to write (or rewrite) each story. Since his first collection, Nightshift, published thirty-five years ago, Stephen King has dazzled readers with his genius as a writer of short fiction. In this new collection he assembles, for the first time, recent stories that have never been published in a book. He introduces each with a passage about its origins or his motivations for writing it. There are thrilling connections between stories; themes of morality, the afterlife, guilt, what we would do differently if we could see into the future or correct the mistakes of the past. "Afterlife" is about a man who died of colon cancer and keeps reliving the same life, repeating his mistakes over and over again. Several stories feature characters at the end of life, revisiting their crimes and misdemeanors. Other stories address what happens when someone discovers that he has supernatural powers—the columnist who kills people by writing their obituaries in "Obits;" the old judge in "The Dune" who, as a boy, canoed to a deserted island and saw names written in the sand, the names of people who then died in freak accidents. In "Morality," King looks at how a marriage and two lives fall apart after the wife and husband enter into what seems, at first, a devil's pact they can win. Magnificent, eerie, utterly compelling, these stories comprise one of King's finest gifts to his constant reader—"I made them especially for you," says King. "Feel free to examine them, but please be careful. The best of them have teeth."
I always love reading short story collections from Stephen King, and the addition of the introduction before each story was very interesting to me as an aspiring writer. If you love, or even just like, Stephen King, you would enjoy this collection.
13.
14 Days To Die
-
A.B. Whelan
.
Stay-at-home mom Sarah Johnson has the perfect family—a handsome, hardworking husband and two healthy and beautiful children. At least, that's what she's been telling herself for years. After the tragedies in her youth, Sarah deemed living a lie easier than dwelling on the past and facing her everyday failures. To avoid any kind of confrontation at home she doesn't read her husband's emails or spy on him like most jealous wives do. She wouldn't jeopardize her comfortable but dull life for anything. But Sarah's world is about to crumble around her when she receives a phone call from a man with a heavy foreign accent telling her that her perfect husband has put a price on her head. She is offered two weeks to come up with a counteroffer or die. Why would her model husband Mike want her dead? Hasn't she been the perfect wife? Or has her karma finally caught up with her—making her pay for her former transgressions? The final countdown begins and now Sarah has to race against time to find out what went wrong in her marriage and find a way out of this nightmare. So the game of life or death begins. Secrets are unveiled. Emotions are unleashed. Actions are taken. Will there be a winner in this dangerous game when no one can escape the twist of fate?
I liked this book, and I didn't like this book. Sarah Johnson made me crazy. The entire first third of the book all she did was feel sorry for herself, understandable considering the circumstances; and bitching about what a jerk her husband is, also understandable considering the circumstances. But an entire third of the book? I was silently screaming at her to GET ON WITH IT ALREADY, and it was starting to make me feel very depressed. I was both surprised and disappointed by the ending. But it was still worth reading.
14.
The Third Gate
-
Lincoln Child
.
Under the direction of famed explorer Porter Stone, an archaeological team is secretly attempting to locate the tomb of an ancient pharaoh who was unlike any other in history. Stone believes he has found the burial chamber of King Narmer, the near mythical god- king who united upper and lower Egypt in 3200 B.C., and the archaeologist has reason to believe that the greatest prize of all—Narmer's crown—might be buried with him. No crown of an Egyptian king has ever been discovered, and Narmer's is the elusive "double" crown of the two Egypts, supposedly possessed of awesome powers. The dig itself is located in one of the most forbidding places on earth—the Sudd, a nearly impassable swamp in northern Sudan. Amid the nightmarish, disorienting tangle of mud and dead vegetation, a series of harrowing and inexplicable occurrences are causing people on the expedition to fear a centuries- old curse. With a monumental discovery in reach, Professor Jeremy Logan is brought onto the project to investigate. What he finds will raise new questions . . . and alarm.
The main character in this book is the same guy from The Forgotten Room. Another entertaining read, and I learned some cool stuff about Egyptian pharaohs too. I had a big chunk of the mystery surrounding Narmer's tomb figured out, and part of the secondary plot figured out, but it was still a fun book. I am a big fan of Lincoln Child.

15. Bone Labyrinth - James Rollins. A war is coming, a battle that will stretch from the prehistoric forests of the ancient past to the cutting-edge research labs of today, all to reveal a true mystery buried deep within our DNA, a mystery that will leave readers changed forever . . . In this groundbreaking masterpiece of ingenuity and intrigue that spans 50,000 years in human history, New York Times best selling author James Rollins takes us to mankind's next great leap. But will it mark a new chapter in our development . . . or our extinction? In the remote mountains of Croatia, an archaeologist makes a strange discovery: a subterranean Catholic chapel, hidden for centuries, holds the bones of a Neanderthal woman. In the same cavern system, elaborate primitive paintings tell the story of an immense battle between tribes of Neanderthals and monstrous shadowy figures. Who is this mysterious enemy depicted in these ancient drawings and what do the paintings mean? Before any answers could be made, the investigative team is attacked, while at the same time, a bloody assault is made upon a primate research center outside of Atlanta. How are these events connected? Who is behind these attacks? The search for the truth will take Commander Gray Pierce of Sigma Force 50,000 years into the past. As he and Sigma trace the evolution of human intelligence to its true source, they will be plunged into a cataclysmic battle for the future of humanity that stretches across the globe . . . and beyond. With the fate of our future at stake, Sigma embarks on its most harrowing odyssey ever—a breathtaking quest that will take them from ancient tunnels in Ecuador that span the breadth of South America to a millennia-old necropolis holding the bones of our ancestors. Along the way, revelations involving the lost continent of Atlantis will reveal true mysteries tied to mankind's first steps on the moon. In the end, Gray Pierce and his team will face to their greatest threat: an ancient evil, resurrected by modern genetic science, strong enough to bring about the end of man's dominance on this planet. Only this time, Sigma will falter—and the world we know will change forever.

16. With No One As Witness - Elizabeth George. The police never suspected a serial killer was at large until they found the third murdered boy, the first white victim, his body draped over a tomb in a London graveyard. Suddenly a series of crimes and a potential public relations disaster have Scotland Yard on the defensive, scrambling to apprehend a maniac while avoiding accusations of racism. Detective Superintendent Thomas Lynley, distracted by concerns for his pregnant wife, has been assigned to the investigation, along with his disgraced partner, Barbara Havers, who's fighting for her professional future. Winston Nkata, deservedly, if hastily, promoted to detective sergeant, is the black face who will speak to the media. But none of them can imagine the tenacity and ingenuity of the killer they seek . . . and no one is prepared for the savage, shocking instant when everything will change forever.

17. Easy Prey (Lucas Davenport #11) - John Stanford. When Davenport is called to the white-stuccoed house, after the party, he knows it's for no usual case. For one thing, the strangulation victim is Alie'e Maison, she of the knife-edge cheekbones and jade-green eyes: as models go, one of the biggest. For another, there are a few small complications. Such as the drugs in her body and the evidence that she had recently made love to a woman. Such as the fact that one of Lucas's own men had been at the party, and is now a suspect. Such as the little surprise they are all about to find when they search the house: a second body, stuffed in a closet, with a deep dent in its skull. The whole case is going to be like this, Lucas knows — secrets piled upon secrets, the ground shifting constantly under his feet. But even he cannot suspect the earth tremors he is about to feel, when an old lover comes back into his life, a woman he has never been able to forget... whose own secrets may turn out to be the most perplexing ones of all.

18. Beside Myself - Ann Morgan. Beside Myself is a literary thriller about identical twins, Ellie and Helen, who swap places aged six. At first it is just a game, but then Ellie refuses to swap back. Forced into her new identity, Helen develops a host of behavioral problems, delinquency and chronic instability. With their lives diverging sharply, one twin headed for stardom and the other locked in a spiral of addiction and mental illness, how will the deception ever be uncovered? Exploring questions of identity, selfhood, and how other people's expectations affect human behavior, this novel is as gripping as it is psychologically complex.

19. Try Not To Breathe - Holly Sedden. For fans of Lianne Moriarty, Paula Hawkins, and Tana French, an arresting debut novel of psychological suspense: a young journalist struggles to keep the demons of her alcoholism at bay as she finds her purpose again in tackling the mystery of a shocking headline-making crime, still unsolved after fifteen years. Amy Stevenson was the biggest news story of 1995. Only fifteen years old, Amy disappeared walking home from school one day and was found in a coma three days later. Her attacker was never identified and her angelic face was plastered across every paper and nightly news segment. Fifteen years later, Amy lies in the hospital, surrounded by 90's Britpop posters, forgotten by the world until reporter Alex Dale stumbles across her while researching a routine story on vegetative patients. Remembering Amy's story like it was yesterday, she feels compelled to solve the long-cold case. The only problem is, Alex is just as lost as Amy—her alcoholism has cost her everything including her marriage and her professional reputation. In the hopes that finding Amy's attacker will be her own salvation as well, Alex embarks on a dangerous investigation, suspecting someone close to Amy. Told in the present by an increasingly fragile Alex and in dream-like flashbacks by Amy as she floats in a fog of memories, dreams, and music from 1995, Try Not to Breathe unfolds layer by layer to a breathtaking conclusion.

20. The Night Sister - Jennifer McMahon. Once the thriving attraction of rural Vermont, the Tower Motel now stands in disrepair, alive only in the memories of Amy, Piper, and Piper's kid sister, Margot. The three played there as girls until the day that their games uncovered something dark and twisted in the motel's past, something that ruined their friendship forever. Now adult, Piper and Margot have tried to forget what they found that fateful summer, but their lives are upended when Piper receives a panicked midnight call from Margot, with news of a horrific crime for which Amy stands accused. Suddenly, Margot and Piper are forced to relive the time that they found the suitcase that once belonged to Silvie Slater, the aunt that Amy claimed had run away to Hollywood to live out her dream of becoming Hitchcock's next blonde bombshell leading lady. As Margot and Piper investigate, a cleverly woven plot unfolds—revealing the story of Sylvie and Rose, two other sisters who lived at the motel during its 1950s heyday. Each believed the other to be something truly monstrous, but only one carries the secret that would haunt the generations to come.

21. Alive (The Generations Trilogy #1) - Scott Sigler. I open my eyes to darkness. Total darkness. I hear my own breathing, but nothing else. I lift my head…it thumps against something solid and unmoving. There is a board right in front of my face. No, not a board…a lid.
A teenage girl awakens to find herself trapped in a coffin. She has no idea who she is, where she is, or how she got there. Fighting her way free brings little relief—she discovers only a room lined with caskets and a handful of equally mystified survivors. Beyond their room lies a corridor filled with bones and dust, but no people…and no answers. She knows only one thing about herself—her name, M. Savage, which was engraved on the foot of her coffin—yet she finds herself in charge. She is not the biggest among them, or the boldest, but for some reason the others trust her. Now, if they're to have any chance, she must get them to trust one another. Whatever the truth is, she is determined to find it and confront it. If she has to lead, she will make sure they survive. Maybe there's a way out, a rational explanation, and a fighting chance against the dangers to come. Or maybe a reality they cannot comprehend lies just beyond the next turn.

22. The Forgotten Girls (Louise Rick [English translation] #4) - Sara Blaedel. In a forest in Denmark, a ranger discovers the fresh corpse of an unidentified woman. A large scar on one side of her face should make the identification easy, but nobody has reported her missing. After four days, Louise Rick—the new commander of the Missing Persons Department—is still without answers. But when she releases a photo to the media, an older woman phones to say that she recognizes the woman as Lisemette, a child she once cared for in the state mental institution many years ago. Lisemette, like the other children in the institution, was abandoned by her family and branded a "forgotten girl." But Louise soon discovers something more disturbing: Lisemette had a twin, and both girls were issued death certificates over 30 years ago. As the investigation brings Louise closer to her childhood home, she uncovers more crimes that were committed—and hidden—in the forest, and finds a terrible link to her own past that has been carefully concealed.

23. One Step Too Far - Tina Seskis. A woman leaves her happy family and home to reinvent herself as a completely different person, with no trace of her former self, working in a hip London ad agency, until a shocking revelation makes her face what she has done.

24. Career Of Evil (Cormoran Strike #3) - Robert Galbraith. Cormoran Strike is back, with his assistant Robin Ellacott, in a mystery based around soldiers returning from war.
When a mysterious package is delivered to Robin Ellacott, she is horrified to discover that it contains a woman's severed leg. Her boss, private detective Cormoran Strike, is less surprised but no less alarmed. There are four people from his past who he thinks could be responsible – and Strike knows that any one of them is capable of sustained and unspeakable brutality. With the police focusing on the one suspect Strike is increasingly sure is not the perpetrator, he and Robin take matters into their own hands, and delve into the dark and twisted worlds of the other three men. But as more horrendous acts occur, time is running out for the two of them… Career of Evil is the third in the series featuring private detective Cormoran Strike and his assistant Robin Ellacott. A mystery and also a story of a man and a woman at a crossroads in their personal and professional lives.

25. Silent Scream (D.I. Kim Stone #1) - Angela Marsons. Even the darkest secrets can't stay buried forever… Five figures gather round a shallow grave. They had all taken turns to dig. An adult sized hole would have taken longer. An innocent life had been taken but the pact had been made. Their secrets would be buried, bound in blood … Years later, a headmistress is found brutally strangled, the first in a spate of gruesome murders which shock the Black Country. But when human remains are discovered at a former children's home, disturbing secrets are also unearthed. D.I. Kim Stone fast realizes she's on the hunt for a twisted individual whose killing spree spans decades. As the body count rises, Kim needs to stop the murderer before they strike again. But to catch the killer, can Kim confront the demons of her own past before it's too late?

26. Dark Matter - Blake Crouch. "Are you happy with your life?" Those are the last words Jason Dessen hears before the masked abductor knocks him unconscious. Before he awakens to find himself strapped to a gurney, surrounded by strangers in hazmat suits. Before a man Jason's never met smiles down at him and says, "Welcome back, my friend." In this world he's woken up to, Jason's life is not the one he knows. His wife is not his wife. His son was never born. And Jason is not an ordinary college physics professor, but a celebrated genius who has achieved something remarkable. Something impossible. Is it this world or the other that's the dream? And even if the home he remembers is real, how can Jason possibly make it back to the family he loves? The answers lie in a journey more wondrous and horrifying than anything he could've imagined—one that will force him to confront the darkest parts of himself even as he battles a terrifying, seemingly unbeatable foe. From the author of the bestselling Wayward Pines trilogy, Dark Matter is a brilliantly plotted tale that is at once sweeping and intimate, mind-bendingly strange and profoundly human—a relentlessly surprising science-fiction thriller about choices, paths not taken, and how far we'll go to claim the lives we dream of.

************************************************
For 2015, I'm going to just go with a list, in order, of the books I've read this year. I may or may not have some comments or reviews. Shall we get started?

1. What If?: Serious Scientific Answers to Absurd Hypothetical Questions - Randall Munroe. Entertaining; the very first question gave me an idea for a novel of my own!

2. The October List - Jeffery Deaver. If you liked the movie Memento, you will probably like this book. If you didn't like the movie, then this book will probably drive you bonkers. I liked the movie, and this book drove me nuts. It was worth it, though.

3. Night Films - Marisha Pessl. Creepy, but good creepy. Her second novel.

4. Death by Darjeeling - Laura Childs. First in a series of mysteries; heroine owns a tea shop. Recipes are included. She also does a series with scrapbooking; that is how I found out about her books - reading a fellow crafter's blog. Light reading, but entertaining.

5. Gunpowder Green - Laura Childs. Second in the tea shop series. Just as good as the first one.

6. Special Topics In Calamity Physics - Marisha Pessl. This is her first book; I'm glad I read her second book first (see #3 above) because I liked that one better. I know it's a book, and a book has words, but there were so many words in this book.

7. The Poisoner - the Life and Crimes of Victorian England's Most Notorious Doctor - Stephen Bates. Meh, it was interesting and boring at the same time. It caught my eye as I was checking out books at the library; took me FOREVER to read.

8. Better Than Before - Mastering the Habits of Our Everyday Lives - Gretchen Rubin. I LOVED this book! I didn't get to finish it before returning it to the library, but I think I will be purchasing it for my personal library.

9. The Burning Room - Michael Connelly. Good plot, good characters. I believe it is part of an ongoing series, but was just fine as a stand-alone novel.

10. Revival - Stephen King. I liked this book, as I do almost all of his work. But - is it me, or is he getting softer in his old age? Don't get me wrong; this book has his signature creep factor. But even though you know the plot is building to something big, it doesn't seem to have that holy crap I'm going to go hide under the house for a year then get counseling for another year before I pick up another book feeling that his earlier works had *coughTheShiningcough*. Not that that's necessarily a BAD thing...I'm just sayin'.

************************************************
Books read during 2014:
Got a little behind here lately. Haven't been feeling well, a bunch of books came in from the library all at once, blah blah blah. Sorry!
I finished this book about two weeks ago but haven't had a chance until now to post about it.
Here is the summary from Amazon:
"Mix Cellini has just moved into a flat in a decaying house in Nottinghill, where he plans to pursue his two abiding passions--supermodel Nerissa Nash, whom he worships from afar, and the life of serial killer Reggie Christie, hanged fifty years earlier for murdering at least eight women. Gwendolen Chawcer, Mix's eighty-year-old landlady has few interests beside her old books and her new tenant. But she does have an intriguing connection to Christie. And when reality intrudes into Mix's life, he turns toi Christie for inspiration and a long pent-up violence explodes. Intricately plotted and brilliantly written, 13 Steps Down enters the minds of these disparate people as they move inexorably toward its breathtaking conclusion."
I love Ruth Rendell; I've reading her work for years. To me, she is the consummate British mystery writer. She also writes under the pen name Barbara Vine. This book was classic her; lots of suspense without a lot of car chases and such, and it is right up to the last page. I enjoyed this story line; I look forward to reading more of her works in the future.
Reviewed 3/26/14
************************************************
I just finished reading this book at work today:
Again, the summary on Amazon:
"Massachusetts Chief Medical Examiner Kay Scarpetta has just returned from working one of the worst mass murders in U.S. history when she's awakened at an early hour by Detective Pete Marino.
A body, oddly draped in an unusual cloth, has just been discovered inside the sheltered gates of MIT and it's suspected the identity is that of missing computer engineer Gail Shipton, last seen the night before at a trendy Cambridge bar. It appears she's been murdered, mere weeks before the trial of her $100 million lawsuit against her former financial managers, and Scarpetta doubts it's a coincidence. She also fears the case may have a connection with her computer genius niece, Lucy.
At a glance there is no sign of what killed Gail Shipton, but she's covered with a fine dust that under ultraviolet light fluoresces brilliantly in three vivid colors, what Scarpetta calls a mineral fingerprint. Clearly the body has been posed with chilling premeditation that is symbolic and meant to shock, and Scarpetta has reason to worry that the person responsible is the Capital Murderer, whose most recent sexual homicides have terrorized Washington, D.C. Stunningly, Scarpetta will discover that her FBI profiler husband, Benton Wesley, is convinced that certain people in the government, including his boss, don't want the killer caught.
In Dust, Scarpetta and her colleagues are up against a force far more sinister than a sexual predator who fits the criminal classification of a "spectacle killer." The murder of Gail Shipton soon leads deep into the dark world of designer drugs, drone technology, organized crime, and shocking corruption at the highest levels.
With unparalleled high-tension suspense and the latest in forensic technology, Patricia Cornwell once again proves her exceptional ability to surprise—and to thrill."
When Cornwell's books first started coming out, I practically inhaled them and just couldn't get enough. I love everything about forensics and her works really pushed all my buttons! Sis and I read everything we could get our hands on and waited impatiently for the next book to be released. We even got to meet her one year at a Women of Power or some such convention that I had won tickets to back in the 90's!
But recently, and this book is a good example, I find her writing a chore to slog through. I find myself constantly repeating under my breath, "just get ON WITH IT ALREADY." This book was a brick in hardback at 495 pages; I felt it could have easily been 100 pages less. Constantly repeating herself, wandering off in the middle of things to explore memories and angst-ridden thoughts, made me nuts. I almost gave up on the book several times, but I wanted to know "who dunnit" and why. The whole thing was neatly wrapped up at the end and I found it to be a bit of a let down.
That being said, I won't let this keep me from reading her stuff. If you have never read her books, start with Post-Mortem and work your way through in chronological order. I think her earlier stuff is best, concentrating more on the plot than the individual characters that grow from book to book. I find her later stuff to be more about the lives of these characters and less about the crimes the plots are based on. But, she knows her stuff. Cornwell sold her first novel while working as a computer analyst at the Office of the Chief Medical Examiner in Richmond, Virginia, so when she is describing how a crime scene is worked or how an autopsy is performed, she is not just making stuff up or copying what she has seen on TV crime shows.
This was a long review! If you are a fan, you will want to read this.
Reviewed 3/26/14
************************************************
Another book I would enjoy seeing as a movie. It was a little dry, but I can't quite put my finger on how or why exactly. Good plot, big twist I sure didn't see coming about halfway through the book, and one later on that I had already figured out.
Here is the library's summary:
"State Senator Paul Giannis is a candidate for Mayor of Kindle County. His identical twin brother Cass is newly released from prison, 25 years after pleading guilty to the murder of his girlfriend, Dita Kronon. When Evon Miller, an ex-FBI agent who is the head of security for the Kronon family business, and private investigator Tim Brodie begin a re-investigation of Dita's death, a complex web of murder, sex, and betrayal-as only Scott Turow could weave-dramatically unfolds..."
Thumbs up from me! Reviewed 2/17/14
************************************************
This is another author that I like. I enjoy books like this; they are a lot like the movies I like to watch. It's not going to win any awards and the plot is somewhat predictable, but they are fun to read and I enjoy the movie that plays in my head while I read it.
This is another library book; here is their summary:
"When brilliant archaeologist Dilara Kenner is contacted by Sam Watson, an old family friend who says that he has crucial information about her missing father, Dilara abandons her Peruvian dig and rushes to Los Angeles to meet him. But at the airport, Sam speaks instead of Noah's Ark--the artifact her father had long been searching for--and the possible death of billions. Before Sam can explain, he collapses. With his dying breath, he urges Dilara to find Tyler Locke--a man she's never heard of. Two days later Dilara manages to track down former combat engineer Tyler Locke on an oil rig off Newfoundland. Her helicopter transport goes down well short of the oil rig's landing pad and Dilara and those aboard nearly drown. No sooner is Dilara safely on the rig than she convinces Tyler the crash was no accident. Tyler agrees to help her uncover the secret behind Noah's Ark and, more important, her father's disappearance. As the picture begins to come into focus, they realize they have just seven days to find the Ark before its secret is used to wipe out civilization once again. With a chilling premise and a blistering pace, Boyd Morrison combines all the best elements of a blockbuster thriller with an intelligent and fascinating exploration of one of the Old Testament's great mysteries."
This puts a different spin on the story of Noah's Ark. Whatever your beliefs are - a true story taken literally from the Bible, or just a tall tale - I'll bet you never thought of this take on it! Very entertaining, somewhat thrilling, and a little thought prevoking; makes for a fun read inbetween other meatier works. Reviewed 2/5/14
************************************************
I have three books to review today, because I am a bad blogger and haven't been posting these as I finish them.
This is the sequel to Sleep With The Lights On, and I really enjoyed it. It picks up smoothly a few months after the end of the last book, and I just wanted to sit and read it all at once. Here is the summary from the library's website:
"Rachel de Luca's uncanny sense of perception is the key to her success as a self-help celebrity. Even before she regained her sight, she had a gift for seeing people's most carefully hidden secrets. But the secret she shares with Detective Mason Brown is one she has promised to keep. As for Mason, he sees Rachel more clearly than she'd like to admit. >
After a single night of adrenaline-fueled passion, they have agreed to keep their distance--until a string of murders brings them together again. Mason thinks that he can protect everyone he loves, including Rachel, by taking them to a winter hideaway, but danger follows them up the mountain.
As guests disappear from the snowbound resort, the race to find the murderer intensifies. Rachel knows she's a target. Will acknowledging her feelings for Mason destroy her--or save them both and stop a killer?"
I really like Maggie Shayne's style of writing; I'd like to think that if I was writing a novel, my style would be a lot like hers. I tend to write the way I talk, and so does Maggie.
While the genre is "romantic suspense fiction", the romance is kept to a bare minimum - just like I like it. I hate romance novels, so when co-worker recommended the first book, I was doubtful I'd like it. I am very happy to say I was wrong. I'll be very interested to see if there is a third book in the series.
Next:
This was a bit of a divergence for me as I don't usually do the "ghost story" thing. But I read a review of it in Book Pages and thought I'd give it a go. I was pleasantly surprised and thought it was pretty good. Here is the library's summary:
"Written in Dickensian prose, "This House Is Haunted" is a striking homage to the classic nineteenth-century ghost story. Set in Norfolk in 1867, Eliza Caine responds to an ad for a governess position at Gaudlin Hall. When she arrives at the hall, shaken by an unsettling disturbance that occurred during her travels, she is greeted by the two children now in her care, Isabella and Eustace. There is no adult present to represent her mysterious employer, and the children offer no explanation. Later that night in her room, another terrifying experience further reinforces the sense that something is very wrong.
From the moment Eliza rises the following morning, her every step seems dogged by a malign presence that lives within Gaudlin's walls. Eliza realizes that if she and the children are to survive its violent attentions, she must first uncover the hall's long-buried secrets and confront the demons of its past. Clever, captivating, and witty, "This House Is Haunted" is pure entertainment with a catch."
I pretty much worked out what was happening half-way through the book, and I have to admit that I wanted to smack Miss Eliza Caine for being so dense and not figuring it out earlier. But, that would have made for a pretty short book, so you'll just have to put up with it until she catches up. I found it entertaining and a quick read.
Next:
I am a HUGE fan (both literally and figuratively speaking) of the Preston/Child novels. I have read every.single.one. Some need to be read in order of their release, but this one is fine as a stand alone novel. You don't really need the history of Special Agent Pendergast or the main character, Corrie Swanson, to get into and enjoy this book. Here again is the library's summary:
"
Special Agent Pendergast arrives at an exclusive Colorado ski resort to rescue his protegee, Corrie Swanson, from serious trouble with the law. His sudden appearance coincides with the first attack of a murderous arsonist who--with brutal precision--begins burning down multimillion-dollar mansions with the families locked inside. After springing Corrie from jail, Pendergast learns she made a discovery while examining the bones of several miners who were killed 150 years earlier by a rogue grizzly bear. Her finding is so astonishing that it, even more than the arsonist, threatens the resort's very existence.
Drawn deeper into the investigation, Pendergast uncovers a mysterious connection between the dead miners and a fabled, long-lost Sherlock Holmes story--one that might just offer the key to the modern day killings as well.
Now, with the ski resort snowed in and under savage attack--and Corrie's life suddenly in grave danger--Pendergast must solve the enigma of the past before the town of the present goes up in flames
."
I'll have to admit, I had this pretty figured out from the start. Then I learned that I sure as heck did NOT. The plot hummed right along and had me reading until waaaay past my bedtime on more than one occasion. You want to ask Corrie what the hell she thinks she's doing most of the time, and I wondered how she had made it as far as she has in life without managing to get herself killed. If you are a fan, you will like this book. If you haven't read one of Preston and Child's books before, you can go ahead and enjoy this one to the fullest without having to read any of the predecessors.
All three reviews from 1/27/14
************************************************
I loved this book. I hope they make it into a movie! I think it would work really well. I checked this book out from the library, and they catalog it as horror fiction/Apocalyptic literature. Here is their summary:
"There are some odd things about Nate's new apartment. Of course, he has other things on his mind. He hates his job. He has no money in the bank. No girlfriend. No plans for the future. So while his new home isn't perfect, it's livable. The rent is low, the property managers are friendly, and the odd little mysteries don't nag at him too much. At least, not until he meets Mandy, his neighbor across the hall, and notices something unusual about her apartment. And Xela's apartment. And Tim's. And Veek's. Because every room in this old Los Angeles brownstone has a mystery or two. Mysteries that stretch back over a hundred years. Some of them are in plain sight. Some are behind locked doors. And all together these mysteries could mean the end of Nate and his friends...or the end of everything."
"Oh my God!", "holy crap", and "ah HA! I knew it!" were just three of the most common phrases people could hear me uttering as I read this book. I found the characters very believable, there was some wry humor to help break some of the tension, and I found myself wanting to call in sick to work just so I could read this book straight through - especially towards the end. I love puzzles, and this book scratched that itch quite nicely. It also had the psychological thrills that I crave. I highly recommend it, and I will probably purchase a copy for my personal library so I can read it again and again. Reviewed 1/13/14.